Coconuts Fort Lauderdale
Seafood
Breakfast Food
Brunch
Coconuts offers delicious food and it's a local favorite. Some of the items on the menu are tiger prawns, blue crab, conch fritters, lobster roll sandwiches and more. Here is their location.
429 Seabreeze Blvd
Fort Lauderdale, FL 33316
(954) 525-2421
Coconuts
3555 reviews
Yulissa P.
I went to Coconuts for dinner last night with my partner and we had the BEST time! The food was delicious, but the service was what left a lasting...
Read Full Review
Sara J.
This is one of my boyfriend's favorite spots for "go-to" food. The outdoor seating is normally amazing, but due to covid we got takeout. We got the burger...
Read Full Review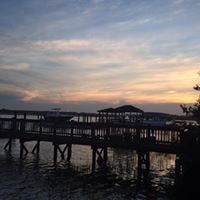 Megan B.
Ordered take out super easy and friendly staff. Views look awesome for sunset. Just a block off the beach road friendly and attentive host and bar staff....
Read Full Review
Videos
Coconuts – Waterfront Restaurant – Fort Lauderdale
Coconuts, Fort Lauderdale – Central Beach – Restaurant …
Food Menu – Coconuts – Fort Lauderdale