1. Coconuts Fort Lauderdale
Coconuts is a casual restaurant on the intracoastal waterway. They offer seafood, American food and a Sunday Brunch. Some of their food includes fish tacos, Shrimp, Fried Fish, Jambalaya, Jerk Chicken and more. It's a favorite hangout among locals. Give them a try!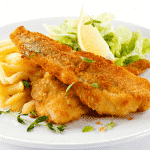 Coconuts Fort Lauderdale serves a wide variety of dishes and authentic seafood. Including shrimp, fish, chicken, tacos, and more.

Coconuts Fort Lauderdale is a well known restaurant in the area.
2. Reviews
This is a popular place. There are many positive and glowing reviews of them. Give them a try if you're in Fort Lauderdale and add your review!
3. Menu
This is a just a sample menu below. You can see the real deal menu here.
Conch Fritters
Coconut Shrimp
Smoked Fish Dip
Grilled Jerk Wings
Peel And Eat Shrimp
Spinach And Artichoke Dip
Coconut Shrimp Platter
Local Fish Of The Day
The Gravy Train
Jambalaya
Danish Babyback Barbecued Ribs
Yard Bird -1/2 a chicken, marinated in rosemary and lemon
Lobster Roll
Fish Tacos
4. Locations
5. More places to learn more.
Here is their site on Foursquare.
6. Hours
They keep good hours. They open at 11:00 AM and close after midnight. So you'll get the chance for lunch, early and late dinner. What more could you want?
Mon 11:00 am – 12:30 am
Tue 11:00 am – 12:30 am
Wed 11:00 am – 12:30 am
Thu 11:00 am – 12:30 am
Fri 11:00 am – 2:00 am
Sat 11:00 am – 2:00 am
Sun 11:00 am – 12:30 am
7. Background
This is a place where you can get their by car, foot, with your dog or your boat. If you've got a boat tie it up to the dock. And go on inside. There is outdoor seating and so you can also bring your dog. This is a great casual place with local food. It's popular among local folks and tourists alike. Sunday brunch has been around for a while and it's popular.
8. Videos
Coconuts – Waterfront Restaurant – Fort Lauderdale