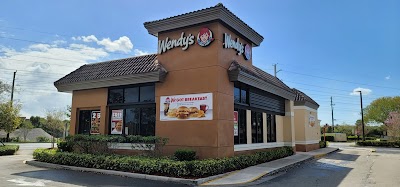 Photo Courtesy of: Herve Andrieu
Wendy's
Address: 10900 Pembroke Rd, Miramar, FL 33025, USA
Main Phone: (954) 442-8556
Latitude: 25.9928439
Longitude: -80.2930789
Did you know that Wendy's rates 3.7/5 based on 1037 total ratings?
Reviews for Wendy's
Mr Nigel Telesford
2/5
in the last week
Lettuce was old and quantity was limited.. chicken was not cut thoroughly/properly + they put all of the cheese on top of the chicken alone, which made it harder to get forcefully bites.. The oatmeal bar saved the day + was superbly rich + flavorful, but when I returned to get more of those, there was only 1 left with no more scheduled to be made for the rest of the day and it was only just after 9 pm with them scheduled to close at 2 am 🤷🏾‍♂️
Catherine Mitchell
1/5
6 months ago
4 years ago I rated this location 4 stars but a much needed edit required. The service has greatly changed from a cashier with a bad attitude, missing item in my order, no one picks up the phone listed on the receipt, and no one replies to the review process either. So epic fail on all levels not even worthy of the one star. Also the restaurant was practically empty before I order, during order prep, and at delivery of order.
Elizabeth T. Gutierrez
3/5
a month ago
It is not the first time something like this happened, about 4:00 pm they closed the door, about 6 or 7 employees, I asked after the lady in front of me and myself had to call one of the employees to help us, they said it was no people there to work, only the drive thru, service really bad, asked for the mgr everyone ignored us, other time they said no registers, , teenagers are ok but they need an strong and knowledgeable boss on all shifts, could not eat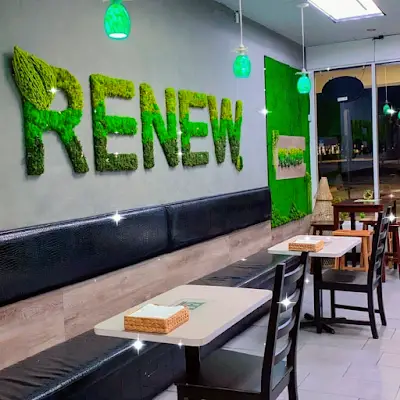 Photo Courtesy of: RENEW Smoothies & Salads
Did you know that RENEW Smoothies & Salads rates 3.8/5 based on 189 total ratings?
Reviews for RENEW Smoothies & Salads
Aminah Rivera
1/5
in the last week
I went into this establishment for a smoothie and left almost dead. I specifically told the cashier I had a peanut allergy and to swap the peanut butter for almond butter. When the woman in the back finished making it, I double checked and confirmed with her that it was almond butter. When I tasted it in my car, I clearly tasted peanut butter. I was lucky to have caught the allergy in time. I spoke with the owner a few hours after and she was completely rude, unapologetic, and neglectful. She was completely unapologetic on the phone and took little to no blame stating their almond and peanut butter are made in the same machine.
She evidently doesn't educate her staff on allergies nor does she realize she could possibly have a lawsuit on her hands. Will not be back and am very disappointed in the customer service in a black business as I love to support my people.
Love Bougie
1/5
2 months ago
One of the worst experiences I've ever had. My coworkers and I ordered 8 items off the menu, all the salads and wrap that we ordered were wrong, and 4 of us paid extra for shrimp and got 3 pieces and shrimp is $5.99 extra. Also 1 of my coworkers are allergic to shrimp and all of the salads had shrimp. 2 off my coworkers went back to the location and the employees stated that they were out of lettuce so they gave us cabbage and spinach to substitute. Which they did NOT advise us prior to ordering. The employee stated that they called the owner to let her be aware that they were out of lettuce but no answer, the employees also stated that's it's always hard to get in touch with her whenever they need her. My co worker called the owner from her phone and stated she can't do a refund now being that her employees need a code to do a refund. The owner advised us to go back to restaurant tomorrow for a refund. The restaurant looks nice but I do NOT recommend because communication skills are horrible. I went to this restaurant because I heard the food and smoothies are good but the experience we had could have been avoided just like this review. How do have a business and do not attend to it or have the audacity to answer the phone.
David Bush
5/5
5 months ago
I stopped by with a friend for smoothies and was delightfully surprised! This place is locally owned and has lots of character, not to mention incredible food! The staff was friendly and the whole place has a clean, trendy vibe. The prices are also very reasonable. I'll definitely be back again soon!