---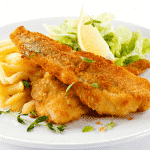 If it's your first time in the South or even if you live here. Get yourself some fried catfish. Now the catfish here are different than what you might think. These catfish are farm raised in a pond. They are fed grain and they get plump and juicy living in a farm pond. When the catfish are caught and fried you'll get a sweet salty cornmeal taste in the fish right after you bite through the crunchy cornmeal batter that the fish is fried in. Most times we get a whole catfish that is fried with the head on. You take the juicy meat right off the bone and then crunch through the rest of the fish. This is really one of our favorite fried foods in Florida. It does not come from the ocean but that's ok because catfish is soooooo delicious.
What's so great about Florida Fried Catfish?

The catfish are farm raised and fed grain.
The catfish are large and have a tender juicy flavor.
The fried batter uses cornmeal and gives a hearty crunch with a sweet crispy taste.
The meat flakes right off and makes them easy to eat.
There are quite a few ways to cook catfish. Our favorite is to fry them. But there are other ways to prepare and eat catfish. We like this book called "Catfish: a Savor the South® Cookbook" as it is written by folks who live in the South. Also the authors have experience in cooking other types of fish and this gives them a wide perspective on southern fish.

Not into catfish? Then get into fried southern food the easy way with Chick Fil-A.