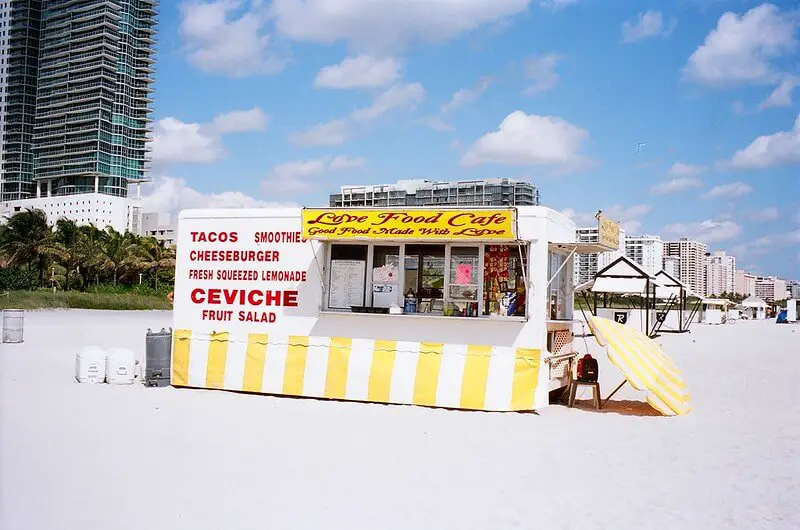 Ceviche, the Peruvian dish of raw fish marinated in lime and/or lemon juice, has been a staple in South America for centuries. It's most popular in Peru and Ecuador but you will also find it in Argentina, Spain, France, Italy, the United States and many other countries as well. Since ceviche is such a versatile dish that can be prepared with almost any type of raw fish or shellfish (including octopus), there are countless restaurants and food vendors across Miami that offer this specialty. Let's take a look at some of the best ceviches around!
Miami Ceviche Restaurants
| | |
| --- | --- |
| CVI.CHE 105 | 105 NE 3rd Ave, Miami, FL 33132 |
| Ceviche 7 Mares Miami | 7451 SW 8th St, Miami, FL 33144 |
| My Ceviche | 1250 S Miami Ave, Miami, FL 33130 |
| Ceviches by Divino | 1381 NE Miami Ct, Miami, FL 33132 |
| Peruvian Fusion Cuisine | 27 N Miami Ave, Miami, FL 33128 |
| Mr Ceviche Biscayne Blvd | 2001 Biscayne Blvd Unit 105, Miami, FL 33137 |
| Limon & Sabor Peruvian Seafood | 3045 Biscayne Blvd, Miami, FL 33137 |
| Sabor A Peru En Miami | 2927 Biscayne Blvd, Miami, FL 33137 |
| Juanito's Ceviche | 4545 NW 7th St, Miami, FL 33126 |
| 305 Peruvian | 261 SW 8th St, Brickell, FL 33130 |
| Ceviche Factory Miami | 2164 NW 28th St, Miami, FL 33142 |
| CVI.CHE 105 | 1245 Lincoln Rd, Miami Beach, FL 33139 |
| La Licuadora | 47 NE 2nd Ave, Miami, FL 33131 |
| Salmon & Salmon Restaurant | 2907 NW 7th St, Miami, FL 33125 |
| PEZ - Mariscos Chingones | 20 W Flagler St, Miami, FL 33130 |
| HotLime Tacos & Ceviche | 140 NE 39th St Suite #241, Miami, FL 33137 |
| Cebiche's Place | 8342 SW 8th St, Miami, FL 33144 |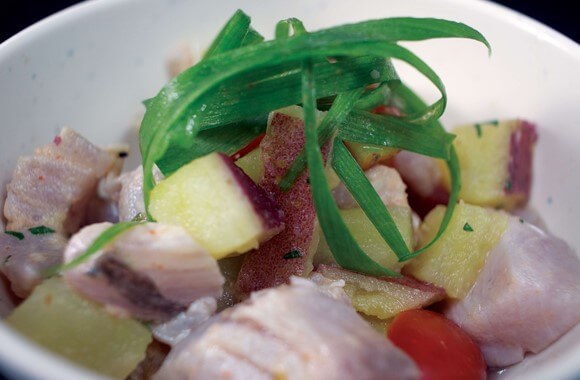 What is a Ceviche?
There are many different variations of ceviche. In the most common preparation, a fish is marinated in citrus juices including lemon and lime and then served cold with hot sauce. Other times, the fish may be cooked in the acidic citrus juices before being served. These raw fish dishes have a similar consistency to Japanese sushi or sashimi dishes and are often eaten by spreading over corn tortillas and topped with diced onion, tomatoes, olives and cilantro. Ceviche can also be prepared in other ways such as cooking it on a grill or griddle, adding sweet potato into the dish or preparing it as a soup. For those interested in trying this seafood recipe at home, there are plenty of recipes available online!
Where to Find the Best Ceviche in Miami
South Beach The Shrimp Shack
This is a little-known secret in South Beach with some of the best ceviche in Miami. The ceviche is made with fresh shrimp and octopus, served over tostones and topped with aji amarillo aioli. You will find it at the back of the restaurant, where you can go for lunch or dinner and watch the skilled chefs prepare your food from behind their glass walls.
Gordo's Bar & Grill
This Latin eatery is famous for their ceviches stuffed inside homemade empanadas! Along with this signature dish, they offer other adventurous options that are sure to leave your taste buds dancing! For example, Gordo's offers some of the best ceviche in Miami made with wild caught snapper and sea scallops.
La Pulpería
La Pulpería has been serving traditional Peruvian ceviche since 1995. They offer their famous Cebiche de Tuna Relleno (Peruvian style tuna salad) daily as well as other popular Peruvian dishes like Lomo Saltado (beef stir fry).
El Balcón
Known for its innovative dishes, El Balcón offers some of the best ceviches in Miami. Their Al Pastor Ceviche is prepared with rich, succulent pork marinated in orange juice, pineapple puree and onion before being served over tostones with chile pepper sauce.
Doral Ceviches
Doral is a Miami suburb known for its sleek modern buildings, beautiful waterfront and proximity to Downtown. If you're looking for a place with a little bit of everything, Doral is the place to go.

Buca di Beppo Firenze
There are plenty of places in Doral that serve ceviche, but one of our favorites is Buca di Beppo Firenze. This Italian-Peruvian fusion restaurant offers a variety of ceviches that will delight your palate.

Tacos Los Compadres
There are also plenty of Mexican taquerias in Doral that offer ceviche as well. One such example is Tacos Los Compadres, which specializes in authentic Mexican tacos and ceviche. If you have room after your meal, head over to the bakery next door to get some flan or empanadas!
Versailles Ceviches y Tacos
Versailles Ceviches y Tacos is a Peruvian restaurant that offers ceviche and other traditional dishes. If you are looking for a great spot to get your hands on some ceviche, this is the place! Along with the traditional fish ceviche, they also offer a vegan one. With so many options, Versailles Ceviches y Tacos is sure to leave you satisfied. For a little bit of spice, try their hot ceviche! It comes with a side of quinoa and it's great if you want something different than just your basic ceviche. One of the most popular items on the menu is their albóndigas, which are meatballs in tomato sauce served with rice and beans. This dish is probably one of their most popular because it's savory and delicious!
Versa-Tacos
Versa-Tacos has a ceviche experience for all budgets. When you order the $9 ceviche special, you get three small bowls of seafood, but that doesn't mean it doesn't taste good! Their ceviche is made with fresh fish and it is served on crispy tortillas that are slightly sweetened and sprinkled with cilantro and red onion. If you enjoy spicy food, then Versa-Tacos is the place for you. They offer three different levels of spiciness and their most popular level is the medium spiciness, which will have your mouth burning in no time. If you are looking for a more mild dish, then opt for the mild spiciness instead!
Mereta's Place Mexican Bistro and Grill
Mereta's Place Mexican Bistro and Grill offers an extensive selection of ceviches on their menu. This Miami eatery serves up some of the best ceviche around, with a variety of flavors including Peruvian, Caribbean, and Cuban chowder. This restaurant is also known for its seafood dishes and fresh seafood cocktails, so there is no shortage of options here! Venture to Mereta's Place Mexican Bistro and Grill and you will be able to indulge in the amazing ceviche that they serve.
Cevicheria Juana La Llorona
One of the best ceviches in Miami is found at Cevicheria Juana La Llorona. Here, you can get a variety of ceviche flavors and avail yourself of a taste of some authentic Peruvian cuisine. You can select from traditional fish ceviche or lobster ceviche for your main dish. This restaurant also has an excellent selection of Peruvian desserts such as chicha morada and huancaina, which are both made from purple corn pudding. Cevicheria Juana La Llorona is located on NW 2nd Ave, just south of 41st Street in Miami's Little Havana neighborhood. They are open Tuesday through Saturday from 12pm to 10:30pm and Sunday through Monday from 12pm to 9:30pm.
Ceviche y Mas
This popular Peruvian restaurant is located in the heart of Miami's Little Havana neighborhood. The ceviche at Ceviche y Mas is served in a glass bowl with a side of yellow rice and an avocado puree on the side for topping. You can also choose to have your ceviche topped with chorizo, fried plantain or roasted corn as well. If you're wondering what makes this ceviche stand out from the rest, it's their special recipe that includes shrimp and calamari. If you are looking for something on the sweeter side, try Ceviche y Mas' Mango Lime Shrimp ceviche instead!
La Bodeguita Del Mar
La Bodeguita Del Mar has been serving ceviche since 1936, making them the oldest restaurant in Miami to serve this dish. Their flagship location is located on the waterfront of South Beach and they also have a second location in Little Havana. The ceviche here is made with a mix of shrimp, yellowfin tuna, sea urchin, whitefish, bay scallops and calamari.
El Merendero De Josefa
El Merendero De Josefa is located at the heart of Little Havana. The restaurant specializes in ceviche and you can try their signature dish, "Ceviche de Pescado y Tostones". For this dish, they marinate a whole red snapper in lemon juice and then serve it with fried green plantains, avocado slices and cilantro. For a more traditional taste, El Merendero De Josefa also offers "Ceviche de Pescado con Machaca" which is a popular Peruvian dish consisting of chopped raw fish mixed with ground beef or pork spiced with cumin and pepper.
Tropicale Bistro Cafe & Market
Located at 308 NW 22nd Street, Tropicale Bistro Cafe & Market is a great place to grab a ceviche dish. This restaurant is located on Miami's Design District and offers classic Peruvian dishes like ceviche as well as traditional platos combinados. The restaurant is open from 11:00am to 10:00pm with weekend hours until 2:00am. Get ready to indulge in some of the best Peruvian cuisine around!