St Augustine Beach has a lot to offer, including great restaurants. There are many different types of places to eat, so you're sure to find something that suits your tastes. Here are some of our favorite spots:
Cafe Alcazar
Cafe Alcazar
1530 State Road 16, St. Augustine Beach, FL 32080
(904) 697-7249
cafealcazarstaugustinebeach.com/
Location: In the heart of Historic Downtown on Anastasia Island in St. Augustine Beach, Cafe Alcazar is located just steps from the ocean.
Cuisine: American fare with a Spanish twist like paella and tapas! The menu also includes sandwiches and salads as well as familiar favorites including burgers and fish & chips. * Prices: $$ – $$$ (entrees range from $10-$20). Lunch specials are available Monday through Saturday 11am-3pm at an additional discount! * Hours: Tuesday-Saturday 11am–10pm & Sunday Brunch 10am–2pm (closed Mondays). Closed New Year's Day, Thanksgiving Day, Christmas Eve & Day
Hola Cabana
If you're looking for a restaurant that offers Mexican food, Hola Cabana is the perfect choice. With its playful beach theme, this restaurant is a great place to enjoy lunch or dinner before heading out to enjoy your day of fun in the sun.
Hola Cabana offers an assortment of traditional Mexican dishes such as tacos and burritos, but they also have some other options like burgers and sandwiches. If you're craving breakfast during your vacation at St Augustine Beach, Hola Cabana serves it all day long!
Hola Cabana is located at 3580 A1A Beach Blvd just north of Ocean Boulevard on the east side of A1A (see map below). They are open 8:00 am – 8:00 pm Monday through Friday and 10:00 am – 6:00 pm Saturday & Sunday.
Surf City
Surf City
Located in the heart of St. Augustine Beach, this is one of the city's most popular restaurants. The seafood here is fresh and delicious, but there are also plenty of options for meat lovers as well. The menu changes seasonally, so be sure to check it out online before heading over!
Open for lunch and dinner 7 days a week (except on holidays).
Good for kids (they have kid-friendly menu items) and groups – they can accommodate large parties up to 100 people easily as long as you give them enough notice! They also have an outdoor deck where you can enjoy your meal even if it's raining outside!
Good date spot since it's casual yet still romantic 🙂 They have live music on Fridays which makes the atmosphere even better! If you're looking for something more intimate then try finding some time during their happy hour which runs from 4pm – 6pm every day except Monday because they don't serve alcohol that day 🙁 You'll get half off appetizers just by showing your server this coupon: [link]
Blue Hen Cafe
Blue Hen Café is a great place to eat.
The food is good, the prices are reasonable and it's easy on the wallet. It's also a great spot for families, dates and groups of friends. The atmosphere is casual but not so much that you feel like you can't wear flip flops or shorts (or whatever else you want). There are plenty of open tables inside and out, so there's no need to worry about getting seated quickly.
In terms of what to order: start with their famous house salad for $4 or clam chowder bread bowl ($10) if you're feeling hungry! Then move onto something like their crab cakes ($17), grilled salmon ($22), shrimp scampi ($21), grilled chicken breast topped with pineapple salsa ($20) or blackened mahi tacos ($16). If none of those appeal to you (highly unlikely), there are plenty more options on their extensive menu including eggplant parmesan fries ($8), pasta carbonara spaghetti squash noodles with bacon bits & parmesan cheese sauce topped with fried sage leaves ($11) pan-fried chicken breast stuffed with mozzarella inside a homemade tomato sauce served over penne pasta topped off by fresh basil & olive oil drizzle over top finished off with grated parmesan cheese garnish! They have both gluten-free & vegetarian dishes too!
Oasis American Bistro
Oasis American Bistro
Oasis American Bistro is the best restaurant in St Augustine Beach. I've had a lot of meals there and I'm never disappointed. The service is excellent, the food is delicious and they have a great wine selection. It's also a great place to celebrate special occasions because they have an amazing atmosphere that really makes you feel like you're at an upscale restaurant but without all of the stuffiness that comes with many fancy restaurants.
More St Augustine Beach Restaurants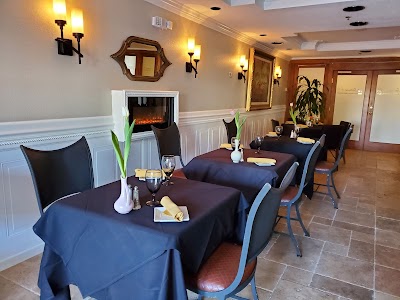 Photo Courtesy of: La Cocina International Restaurant
Did you know that La Cocina International Restaurant rates 4.5/5 based on 356 total ratings?
Reviews for La Cocina International Restaurant
Paul Moffatt
5/5
4 months ago
We did not have a reservation however they managed to seat us after a short wait due to a no show and we were glad we waited. The service from the staff was first class and the food was excellent cooked to perfection and beautifully presented. This is a well-run and efficient place well worth booking a table if you're in the area.
Darian Poinsetta
4/5
a month ago
The dining area was very quiet although many of the tables had people seated at them. It seemed like everyone was trying to keep the noise level to a minimum which we appreciated. Overall, good food and attentive service. Recommend the escargot, short ribs and the lamb.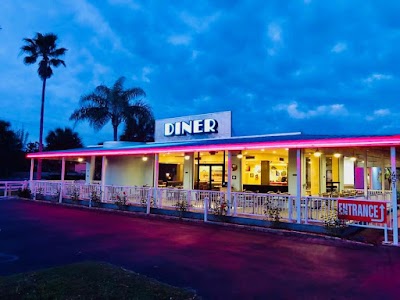 Photo Courtesy of: Beachside Diner
Did you know that Beachside Diner rates 4.8/5 based on 1046 total ratings?
Reviews for Beachside Diner
Marsha Hearn
5/5
a week ago
My husband and I recently ate breakfast at the Beachside Diner while we were visiting family in St. Augustine. I highly recommend this restaurant. This restaurant has a very inviting 50's style decor. Everyone working there is so friendly and welcoming. I use a wheelchair and each day my husband and I came for breakfast someone opened the door for us when we arrived. The service is excellent and prompt. There are lots of items on the menu to choose from and your food is delivered quickly to your table. I can't wait to come back again.
Amy Harry
5/5
3 weeks ago
What a fabulous place! The decor is fun and casual. Tony the owner, is a wonderful guy. He was so personable and excited to tell us all about the menu. We settled on a Mac n cheese smash burger and a hot pastrami sandwich that the kitchen prepared for us on grilled rye. Absolutely delicious!!!! Can't recommend Beachside diner enough.
Cathy Windish
5/5
a month ago
Great food, excellent service. Mom had a Reuben on this St Patrick's Day and said it was one of the best ever and she's been around a while. (She's 84). I had crab and shrimp crepes. Divine. Parking can be tricky as it's a busy place, but don't let a few minutes wait deter you. It's worth it.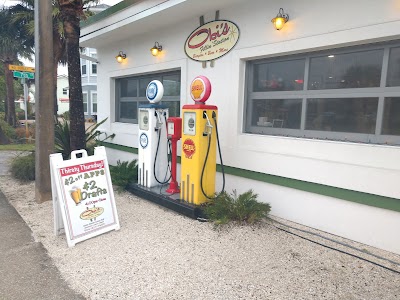 Photo Courtesy of: Obisstaugustine
Did you know that Obi's Fillin' Station rates 4.3/5 based on 1257 total ratings?
Reviews for Obi's Fillin' Station
DeeDee TouristsTimely
5/5
9 months ago
This place was so delicious. The atmosphere and decor are really cool too. The cheeseburger we tried with bacon, beer cheese, and onion straws on it, was cooked to perfection. My nephew ate so well here. For a picky eater, that says a lot. He had the chicken fingers and fries kid meal. The waitress here was so good. We were seated immediately upon entry, no wait, you gotta love that. Then she brought him crayons and activities paper. Not that we had long to color lol; the food came out fast, hot and good. My mom tried the fish sandwich, she wasn't wild about it, but after asking for tarter sauce, it was palatable for her. It was a big sandwich as well, her and my dad were able to fill up on just half each, and the fries. This place is a must try. I highly recommend it. When your there pop in the ladies room and take a look at the awesome sink fixture created from car parts. I wish I could give this place six stars.
EatNails
2/5
8 months ago
Previously had given this place a 5 star review. I have now changed it to just a 2, and that's only because the decor is rocking. The food is not cooked well anymore, and there are no covid-19 precautions being followed. I cannot see myself going back here again.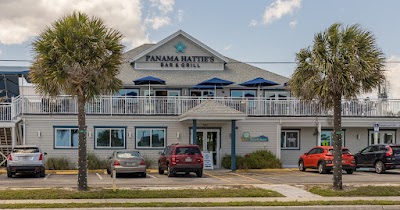 Photo Courtesy of: John Mastrogiacomo
Did you know that Panama Hattie's rates 4.3/5 based on 834 total ratings?
Reviews for Panama Hattie's
Eduardo Tomas
5/5
a week ago
Let me tell you something about this place… The service: great and attentive! The food: even better!!! This was my first time coming to this restaurant and it totally blew me away. I was not expecting such great EVERYTHING. Please come here and give it a shot. Edit: second visit 4/22/2022. Still bomb as heck.
Adam Badt
5/5
a year ago
When we 1st arrived we were told there was a 30 to 45 minute wait…so big deal it's Sunday at 2pm… totally understand that… We found a seat at the bar and met Colleen, the bar tender running upstairs on her own…not only is she on top of EVERYTHING and recommend everything that is good, she makes a hell of a good white Russian…bc the Dude abides, and recommend the salmon bowl to my love and it is fantastic! Everything about this joint is dead on great. Maybe a little pricey but worth the extra price. Totally happy with our 1st visit!
Rachel Smith
5/5
a year ago
My husband and I were looking for a seafood restaurant for dinner and were so glad we found Panama Hattie's down the street from the hotel. We shared the jumbo shrimp platter and it was not only delicious, it was plenty of food for both of us. The shrimp was huge, sweet and crispy. The fries were yummy. Our waitress was very sweet and attentive. We also saw a lot of regular customers which speaks well of the restaurant. You can eat outside if you want but inside felt safe too.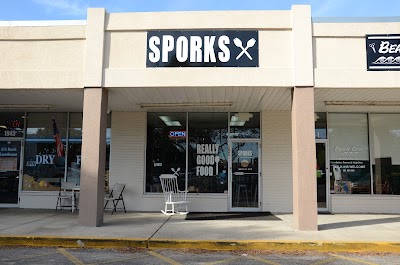 Photo Courtesy of: American Marketing & Publishing
Sporks
Address: 1943 A1A S, St. Augustine, FL 32080, USA
Main Phone: (904) 342-8772
Latitude: 29.860423
Longitude: -81.283248
Did you know that Sporks rates 4.9/5 based on 110 total ratings?
Reviews for Sporks
Christine Bawol
5/5
a month ago
One of the best places we have found to eat here. So yummy. The cilantro line coleslaw is SO GOOD! Go to this place you won't be disappointed
Gregory Bawol
5/5
a month ago
If you like me and always read reviews before eating somewhere, let me tell you the reviews are correct about this place! Easily the best food that we had while vacationing in St. Augustine. Everything made fresh and delicious! Good prices as well!
Christine Black
5/5
3 months ago
Libby and Miles catered the rehearsal dinner for my wedding in November 2021. This was a destination wedding and I was blindly searching for caterers. I stumbled upon Sporks and the reviews were excellent, so I reached out. The communication was amazing. When you live thousands of miles away, it can be a challenge to get a response, let alone a commitment. Libby responded to me the day I reached out, and committed the following day. Their pricing was not only affordable, but allowed for so many options. They also provided some services that went above and beyond to make my event easier. They showed up early to setup, and everything went smoothly. They stayed for a few hours to serve our guests, answer questions, and then when we were done, packed up all of our food and put it in the fridge so we could mingle with our guests. The FOOD! Oh my goodness, our guests are still raving about the bacon mac and cheese and shrimp skewers, and quite frankly everything they served. They cooked most of the appetizers fresh on a grill on site! I am so grateful we found them for our event. I give them 10 out of 10 for both service and quality, and all the things that come with it. Thank you!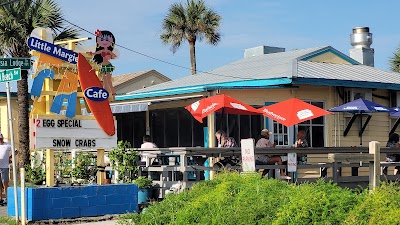 Photo Courtesy of: Rob Bauer
Did you know that Little Margie's FA Café rates 4.3/5 based on 710 total ratings?
Reviews for Little Margie's FA Café
Steven Leighty
5/5
4 weeks ago
Awesome local place. Staff is super friendly, fun atmosphere. We had breakfast, it was delicious. Totally recommend blueberry pancakes, and the crab cakes Benedict. Come check out a cool spot just a couple minute walk from the beach.
Christine Bawol
3/5
a month ago
The shrimp tacos were delicious. The fries were just ordinary frozen string fries. Mimosa bucket comes with 2 bottles of champagne but only a half of a coke cup of orange juice. Overall the food was good. The waitstaff left something to be desired. Wrong drinks, wrong orders, came back for refills at the end of the meal, our 8 year old was the last to get his meal, not sure if she forgot or the kitchen did. Then he had no ranch with his chicken….. 7 mins later we had to ask again.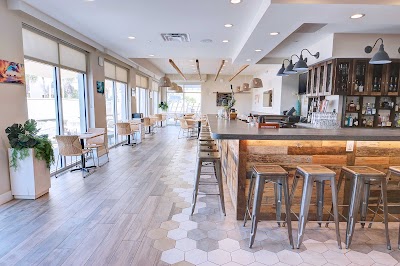 Photo Courtesy of: Santiago's Florida Kitchen & Craft Bar
Did you know that Santiago's Florida Kitchen & Craft Bar rates 4.3/5 based on 163 total ratings?
Reviews for Santiago's Florida Kitchen & Craft Bar
George Florian
5/5
4 months ago
Stopped in with family on Christmas Day for breakfast. There was a short wait to be seated (5-10 min) but with it being a holiday, we expected this. The food (Omelettes, Two egg breakfast) was excellent, service even better. I can't recall our server's name, but he kept the coffee mug filled. The coffee is very good BTW. This was our first visit to Santiago's. We will be back. 👍👍👍
N Sosa
5/5
4 months ago
We had Christmas dinner and they were short staffed. However they handled it very well and were very pleasant. Khiya was our server and did a great job. The food was also delicious 😋.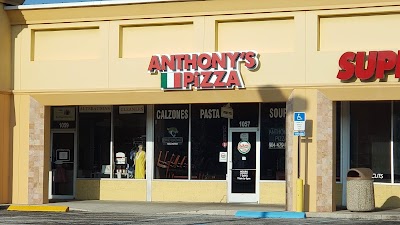 Photo Courtesy of: Edmund Iverson
Did you know that Anthony's East Coast Pizza rates 4.5/5 based on 115 total ratings?
Reviews for Anthony's East Coast Pizza
Kevin May
5/5
3 months ago
In town visiting and Googled pizza near me. I hit a home run! Some of the best pizza I've ever eaten!
Dana Kucera
5/5
6 months ago
Great takeout…pretty much one thing from every category on menu…excellent, delicious eggplant with ziti, crazy good Calzone, pizza,salad…new tradition for visiting family…loved it all

Photo Courtesy of: Café Eleven Restaurant & Catering
Did you know that Café Eleven Restaurant & Catering rates 4.4/5 based on 1189 total ratings?
Reviews for Café Eleven Restaurant & Catering
Atty Suro
3/5
3 weeks ago
The motif/theme is great. The staff behind the counter are not morning people. Maybe hire a female for mornings so that your customers are greeted more warm and friendly. You may wanna refrain from using your microwave so much too. You can tell what parts of your meal was heated or reheated with a microwave. The fruit was ripe and delicious which is rare for most restaurants when you sub for fruit or order a fruit cup. The breakfast sausage was low grade and chewy. Maybe hook up with a local butcher to get a higher quality breakfast meat. Price was industry standard.
Nancy K Haddock
5/5
6 months ago
I hadn't been here in a long time, so it was fun to eat there again. I had the Mac and cheese, and it was perfect. A creamy sauce, large shell macaroni, and grated cheese. The dish was filling without being heavy. The staff was terrific, professional but friendly. We ate inside where it was cooler, but the outside areas were shaded. Good food, good prices.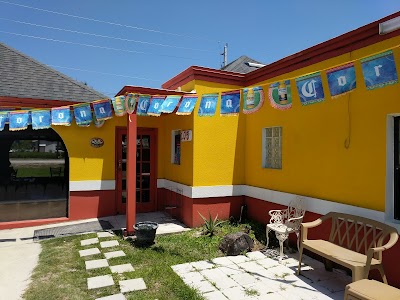 Photo Courtesy of: Rosen Ganev
Did you know that Playa Chacmool Inc rates 4.7/5 based on 698 total ratings?
Reviews for Playa Chacmool Inc
Michele Buchbauer
5/5
in the last week
A charming , family run restaurant with excellent food! Very pleasant guitarist playing during dinner. Sat in large, screened in porch; tables were spaced nicely. Great selection of familiar and specialty dishes. Food was fresh, hot and served quickly. Service attentive and friendly. Prices very reasonable. Just wonderful!
Auretha, Personal Stylist & Brand Visionary
5/5
2 months ago
If you're looking for warmth, hominess and comfort food THIS IS THE PLACE! I'd come back just for the jazz. The food is no different than your standard American Mexican restaurant, so no surprises there. Ya gotta love family restaurants. The dad plays music daily! So much more of an experience than a quiet restaurant!
Katherine Ryan
5/5
4 months ago
Here you feel like family. From our first time visiting to every time we go, we always feel welcomed and like we're a part of the family! The food's a given…authentic and made with love. But in addition, they are very personable – and talking with Javier (the musician) is a must! I'm a gigging musician, and he is by far one of the best musicians in St. Augustine!! A hidden gem. Playa Chacmool is also a great place for birthdays, anniversaries, or any celebration!!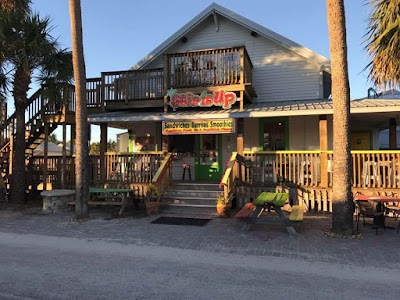 Photo Courtesy of: Stir It Up
Stir It Up
Address: 18 A St, St. Augustine, FL 32080, USA
Main Phone: (904) 461-4552
Latitude: 29.8447757
Longitude: -81.2669689
Did you know that Stir It Up rates 4.5/5 based on 211 total ratings?
Reviews for Stir It Up
Jay Hall Buffalo
5/5
2 months ago
Headed there now to pick up our tuna melts and twister smoothies. This has been my favorite order from Stir it Up since 2001. When I was in college we used to eat Stir it Up almost every day. The food and smoothies just make you feel good. The tuna melt is delish and I suggest you add a side of goddess dressing for dipping. I usually add the chips to the sandwich too. So good. We love peanut butter and jelly so the Twister is amazing! All the smoothies and eats are amazing. This is our third time there since Saturday. Heading up north back home soon and back to wishing we had a Stir it Up where we live. True top 5 favorite restaurant ever.
Zoe V
5/5
a month ago
Went on a weekend getaway to St. A and went here twice it was that good. As a vegan its hard to find a place with vegan options and this place is awesome! Right by the beach too. Highly recommended!
Aradhana Gupta
5/5
3 months ago
It's a hidden jewel in St Augustine area. We tried veggie sandwich with beet hummus and burritos. It was so tasty and refreshing and reasonable that we ordered some for dinner. Their homemade sauce is to die for. Very friendly staff and accommodating. Will be visiting next time again.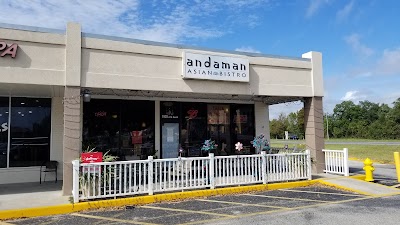 Photo Courtesy of: Herve Andrieu
Did you know that Andaman Asian Bistro rates 4.6/5 based on 436 total ratings?
Reviews for Andaman Asian Bistro
Dilena Talley
5/5
in the last week
Today was the first time I tried them and I will definitely be going back again. The surroundings were quite pleasant and the Cuisine was awesome. So far the best Thai/Vietnamese outside of Volusia County.👍👍👍
Giovanni Biancaniello
5/5
2 months ago
Andaman Asian bistro. Fine establishment with authentic food. Dine in carryout delivery or curbside pickup, the choice is yours. I highly recommend this restaurant because everything about it seems impeccable.
Shaniah Chee
1/5
4 months ago
I didn't want to give a star but it's how I could rate the place. My partner and I were thankful to come across a place still open on XMAS and saw there was some great food! We were excited to eat here! We got there in time way before their closing time. They told us to wait for 40 mins and they would give us a call, so we said no problem and waited outside in our car. It was about 5 pm, when folks were still coming and going. We noticed people going in ahead of us and our time had lengthened to an hour. So, we decided to go in and see what the hold up was for our call that was supposed to be done. It was almost 7 pm and apparently they "called us" but our name wasn't crossed off nor did we get a call. We noticed other folks weren't called either. I understand it being a holiday but we waited pretty long enough and weren't welcomed. Long story short, we were definitely disappointed to have waited so long and not even get a call back.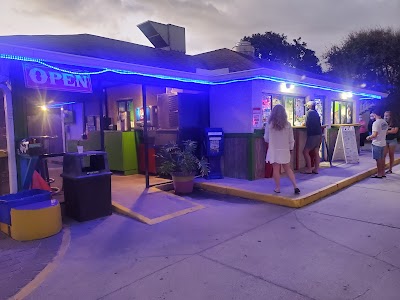 Photo Courtesy of: John Levins
Did you know that A1A Burrito Works rates 4.7/5 based on 1947 total ratings?
Reviews for A1A Burrito Works
Kimberly Riggle
5/5
3 weeks ago
Holy cow. Some of the best burritos and quesadillas we've ever had. Small, unassuming space with a good amount of outdoor seating. We got our food to go, and it was still piping hot when we got home. I forgot photos. It was that good. Also, incredibly friendly service. If you like spicy, ask for the spicy sauce on the side. Woo! So good.
Laura C.
4/5
12 months ago
Really cute little taco stand + open late! Run by locals, food is fresh and they definitely have a good twist on menu items. My only complaint would be that my tacos didn't seem to have much of a kick to them, sort of bland? But, I was also told to order the UFO which I didn't- I will be back for sure, just looking to try a different menu item.
dWiGhT Mulcahy
5/5
a year ago
I'd eat here every day if I could. I visit from CA once a year around Xmas/NY and typically make this one of our first stops. UPDATE 2020: Yearly visit here and still amazing. I am doing more of the menu this trip, which is massively delicious. Got a 8/10 heat level that made me very happy.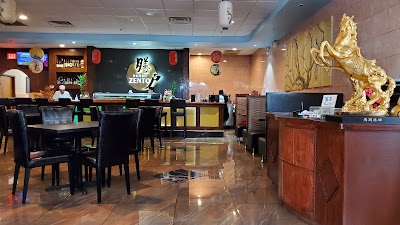 Photo Courtesy of: Matthew Gane
Did you know that Sushi Zento & Grill rates 4.8/5 based on 399 total ratings?
Reviews for Sushi Zento & Grill
Rafael Roldan
5/5
2 weeks ago
What a Gem! Excellent service!! Food was amazing! Place is super clean and price is very good! Had to try the Zento Roll! And you must have to stop here and get one! Definitely coming back! Do yourself a favor and if you're close just stop by! You're welcome!
Raffaele Pantalone
5/5
2 weeks ago
This is hands down the beat restaurant in St. Augustine! The food is absolutely delicious no matter what you order. The sushi is incredible-always the right temp. And the food is always hot. The staff treats us like family and let us stay late. I cant thank them enough and HIGHLY RECOMMEND this restaurant.