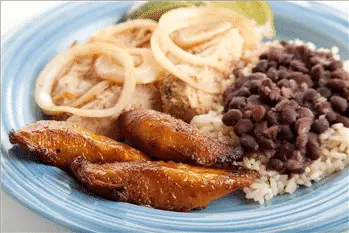 Where can you eat Cuban food?
Little Havana Restaurants
Little Havana Restaurants--Little Havana is loaded with great Cuba, Latin American and American food restaurants. There's great music, drink and good times. You'll find family dining, evening events and more. We hope you find this information useful. And enjoy Little Havana!
Boliche
Boliche is a Cuban dish with round beef roast stuffed with chorizo sausages. It's browned in olive oil simmered with onions. Potatoes are added and it's served with white rice and fried sweet plantains. Your tummy will be happy.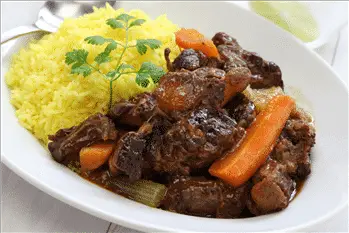 Arrozo con Pollo
This is a chicken and rice. But the chicken and is a half chicken or big chicken leg in a bowl of rice. It's got vegetables and spices that make the whole dish melt in your mouth.
Cuban Sandwiches
We talked about these at the beginning of this article. But let's chat some more. When you get a Cuban sandwich be sure to get beans and rice. Also get plantains on the side. If you got a couple hours be sure to end your meal with Cuban coffee. That will fuel you up and keep you going.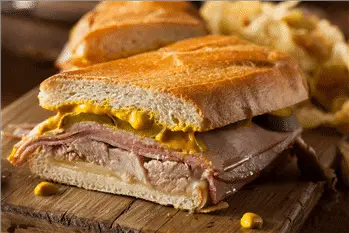 Where can you learn more about Cuban food?
This is a Miami education site. What's interesting is how the site talks about Cuban food and then gives you places to eat in Little Havana Miami.
Of course there is whole site that talks only about Cuban Food. It's called cubarecipes.org.
One of the best ways to experience Cuban Food is to eat it.
Other Great Cities for Cuban food?
There are plenty of fantastic Cuban restaurants to select from in LA, specifically for somebody like me – a Cuban and Puerto Rican now living in LA. If you are in search of some incredible Cuban cuisine you will definitely want to read this list of the best Cuban food in LA. El Floridita. This restaurant is historical as it had been first established in Havana, Cuba in 1820 and had been later renamed La Florida in 1898. It had been later brought to California to bring Hollywood the best Cuban food they might ever have. It had been and still is just a celebrity hot spot due to its great food.
This restaurant offers top quality, freshness, and crave able flavours in their cuisine. These are only a couple of the many qualities you'll find at Cuba De Oro. They've created an authentic and distinctive style with their mouthwatering dishes. El Criollo established itself as a newly contemporary, but still conventional full service restaurant in the bustling downtown Van Nuys area. They offer the best, most flavorful Cuban cuisine at good prices. The food is served rapidly and the taste is still amazing. Porto's Bakery & Caf serves thousands of customers who come far and wide to taste their delicious dishes and desserts. No Jodas is just a Cuban food truck helping incredible cuisine through LA. If you love food trucks and Cuban food, this is just one truck you certainly want to hunt down.
Dish: cuban tamalesCuban Tamales24 dried corn husks (hojas)2 cups corn kernels (might use frozensweet corn kernels, defrosted)2 tablespoons milk2 tablespoons butter (at room temperature level)2 teaspoons granulated sugarSalt, to taste1/3 to 1/2 cup cornmealSoak the corn husks in hot water for 1 hour.Purée the corn kernels with the milk and butter in food processor; then add the sugar, salt and 1/3 cup cornmeal; mix quickly. Include more cornmeal only if the batter appears too liquid. Transfer to a bowl. Wash and dry the processor bowl.Chicken Sofrito Filling1/2 to 1 habañero chile stemmed, seeded1 red or green jalapeno chile, stemmed, seeded8 garlic cloves2 teaspoons to 1 tablespoon olive oil1/2 cup diced onion10 ounces boneless, skinless chicken breast, diced1/2 cup peeled, seeded, diced tomato1 little cooked potato, diced1/4 cup raisins (plumped in hot water)1 tablespoon capers1/2 teaspoon cuminSalt and freshly ground pepper, to tasteWith the food processor running, drop the chiles and garlic through the feed tube; they ought to be finely minced. Set aside.Heat the olive oil in a nonstick sauté pan. Include the onions and cook until softened; push to one side and include the chicken. Sauté up until lightly browned.Add the garlic-chile mixture; sauté 1 minute. Include the tomato, potato, raisins and capers. Season with the cumin, salt and pepper. Get rid of from heat.Combine the filling and the corn batter. Location about 1/2 cup of the mix in the middle of a corn husk. Wrap the husk around the mix and tie on both ends with string. Continue with staying tamale mixture and corn husks.Steam the tamales over barely simmering water for 1 hour. Examine the water level from time to time; add boiling water, if necessary.Yields 10 tamales.
Related Videos
Cuban restaurant food is totally yummy and delicious! What makes the food so great? Cuba is part of Latin America, Caribbean ocean and also a colony of Spain back in the day. The result is an influx of influences that make Cuban food some of the best things you'll ever eat. The number one thing to eat is the Cuban Sandwich. It's a sandwich made with Cuban bread, ham, pickles and other delicious items. It normally comes with rice and beans. Under a Spanish influence the beans are normally black and under a Caribbean influence the rice is yellow. When you're in Florida and especially Miami. If you do nothing else eat a Cuban Sandwich! Here are other foods from Cuba that we love.
Cuban Restaurants in Miami