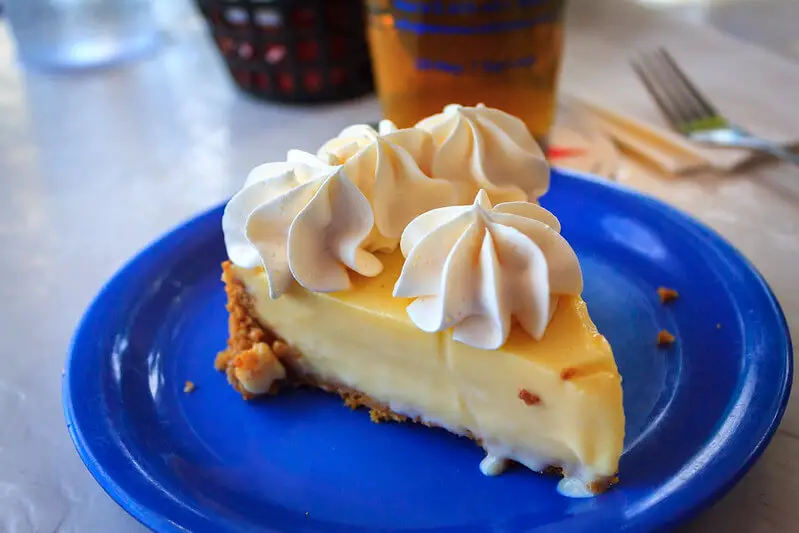 If you're a fan of key lime pies, than you're probably already well aware that this citrusy treat is practically synonymous with Florida.
Fireman Derek's Bake Shop
2545 N Miami Ave Bay 1, Miami, FL 33127
(786) 703-3623
(786) 502-2396
Fireman Derek Murphy started this family owned business in 1983 selling pies from his kitchen table.
Fookem's Fabulous
(305) 699-2122
To begin, Fookem's Fabulous is a bakery that has been around since the 1960s and has been a favorite among locals ever since.

Their bakery serves a large selection of baked goods and pastries, which are all made using fresh ingredients.

They also have a variety of sandwiches and salads for those looking for something more filling than just sweets!
If you're looking for some tasty treats or want to grab lunch with friends, check out Fookem's Fabulous at 5200 NW 41st Street in Miami, Florida!
Icebox Cafe
1855 Purdy Ave, Miami Beach, FL 33139
(305) 538-8448
Icebox Cafe is a great place to stop in and grab a bite to eat. It's located on Hollywood Beach, which is a short drive from Key Largo.
The cafe serves breakfast, lunch and dinner in an intimate setting with friendly service and fresh food made daily.

They have delicious coffee drinks, pastries and other baked goods if you're looking for something sweet after your meal.

The patio area at Icebox is quite nice with plenty of seating available outside so you can enjoy a meal or morning coffee with friends while watching the world go by on the street below.

If you want to stop for lunch during your vacation then this would be a good choice since it's open all day long!
Blue Collar
6730 Biscayne Blvd, Miami, FL 33138
(305) 756-0366 
Blue Collar is a restaurant in Wynwood that has become famous for its key lime pie. If you're looking for an amazing dessert, this place is worth checking out.

The key lime pie is really good and made with real key limes.
Blue Collar also has a great whiskey selection and offers several different kinds of beer, including local favorites like Concrete Beach Brewery's Rowdy Rye IPA and MIA Beer Company's Miami Weiss Hefeweizen.
B Bistro + Bakery
600 Brickell Ave #175, Miami, FL 33131
(305) 778-4585
B Bistro + Bakery is located at 7051 W. Sample Road in Coral Springs, and it's open daily from 11:00 AM to 9:30 PM.

The restaurant has a full menu of sandwiches and salads, as well as some classic French pastries to go along with their desserts.
The dessert options are fairly extensive, with key lime pie being among the most popular choices (and for good reason).

They even have a vegan key lime pie option if you need one! If you're looking for something different from what you've had before though, I recommend trying their chocolate mousse cake or crème brûlée – both are delicious!
Versailles Cuban Bakery
3501 SW 8th St, Miami, FL 33135
(305) 441-2500
If you're a fan of Key Lime Pie, then you'll want to head over to Versailles Cuban Bakery.

They make their own delicious version of this classic dessert and it's absolutely amazing!

A slice will only set you back $4.50 which is extremely reasonable for a tasty treat like this one.

They also have plenty of other delicious desserts available too!

If you don't feel like going out at night but still want some key lime pie, they are open until midnight on the weekends so there's no excuse not to get yourself some pie after dinner with friends!
Big Pink
157 Collins Ave, Miami Beach, FL 33139
Big Pink is located at the corner of 18th Street and Ocean Drive in South Beach.

The restaurant serves breakfast, lunch, dinner, and dessert. It's open daily from 7 a.m.–11 p.m., with brunch served until 3:30 p.m., dinner until 11 p.m., and happy hour from 4–7 p.m..

To get there by car, take I-95 southbound to exit 2A (Collins Avenue) or take I-395 southbound to A1A/Collins Avenue westbound; then turn right onto 18th Street South. Big Pink offers valet parking for $10 per vehicle after 5:30!
The Salty Donut
50 NW 23rd St #112, Miami, FL 33127
(305) 639-8501
The Salty Donut is a donut shop in the Wynwood neighborhood of Miami, Florida. It is known for its unique flavors and creative donuts. The Salty Donut is open 24 hours a day, 7 days a week
Berries in the Grove
2884 SW 27th Ave, Miami, FL 33133
(305) 448-2111
Berries in the Grove is a bistro and bakery that serves up some of the best desserts in the Miami area.

They make key lime pie, but they also have other delicious desserts such as chocolate mousse cake, cheesecake brownie sundaes and strawberry shortcake.

Berries in the Grove has a nice outdoor patio where you can enjoy your dessert with a beautiful view of Coconut Grove.

It's also a good place to take a break from shopping while you're visiting this neighborhood of Miami!
More Key Lime Pie Restaurants
| Name | Location |
| --- | --- |
| B Bistro + Bakery | 600 Brickell Ave #175, Miami, FL 33131 |
| Berries in the Grove | 2884 SW 27th Ave, Miami, FL 33133 |
| Big Pink | 157 Collins Ave, Miami Beach, FL 33139 |
| Blue Collar | 6730 Biscayne Blvd, Miami, FL 33138 |
| Cielito Artisan Pops | 2750 NW 3rd Ave Suite 20A, Miami, FL 33127 |
| DaYum, Pies! | 1312 NE Miami Ct APT 6, Miami, FL 33132 |
| dbakers Sweet Studio | 3501 NE 2nd Ave, Miami, FL 33137 |
| Doce Provisions | 541 SW 12th Ave, Miami, FL 33130 |
| El Gallito Bakery | 1551 SW 27th Ave, Miami, FL 33145 |
| Fireman Dereks Bake Shop | 2545 N Miami Ave Bay 1, Miami, FL 33127 |
| Fireman Dereks Bake Shop | 3435 Main Hwy, Miami, FL 33133 |
| Fookem's Fabulous | 3081 Oak Ave, Miami, FL 33133 |
| Icebox Cafe | 1855 Purdy Ave, Miami Beach, FL 33139 |
| Joe's Stone Crab | 11 Washington Ave, Miami Beach, FL 33139 |
| Perricone's Marketplace & Cafe | 1700 SW 3rd Ave, Miami, FL 33129 |
| Sweet & Pies | 2521 Segovia St, Coral Gables, FL 33134 |
| The Crepes and Waffles Bar | 144 NE 27th St, Miami, FL 33137 |
| The Salty Donut | 50 NW 23rd St #112, Miami, FL 33127 |
| Versailles Cuban Bakery | 3501 SW 8th St, Miami, FL 33135 |