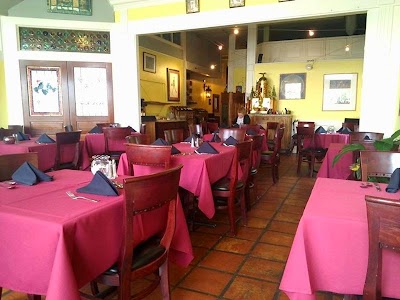 Photo Courtesy of: Bay Street Bistro
Did you know that Bay Street Bistro rates 4.6/5 based on 180 total ratings?
Reviews for Bay Street Bistro
Amory Rachel
5/5
in the last week
I don't know how we have missed this hidden gem all these years. We had a wonderful anniversary dinner. We will be back again for sure. Duck was phenomenal!
Samantha Beckton
5/5
a month ago
Super amazing! My son and I celebrated his graduation from high school. I am often disappointed when I order duck and this was wonderful!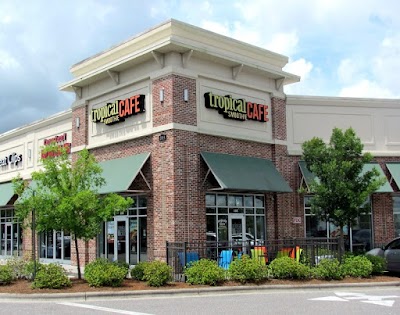 Photo Courtesy of: Tropical Smoothie Cafe
Did you know that Tropical Smoothie Cafe rates 4.3/5 based on 422 total ratings?
Reviews for Tropical Smoothie Cafe
Theodore Alexander
1/5
in the last week
The worst service ever. They are three people in the back Laughing and cutting up. One girl had an ear pod in. They are laughing out loud and acting like no one is waiting too maker an order. A girl walked in and to the back, made lunch for herself and left and I'm still waiting l. Keep in mind there is only myself and one other guy waiting to order. One girl walked to the front, took a phone call and went to the back. She is literally doing nothing. Still waiting. Ok. 10 min after walking in finely service.
Ness Rodriguez
1/5
a month ago
It was terrible. I ordered a Baja bowl and a mango smoothie. Smoothie was great . The bowl was god awful. The rice was cold and clumpy the chicken was as stiff as a corpse. The lettuce was old and wilted . Never AGAIN.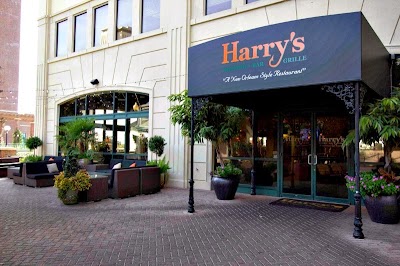 Photo Courtesy of: Harry's Seafood Bar & Grille
Did you know that Harry's Seafood Bar & Grille rates 4.6/5 based on 5463 total ratings?
Reviews for Harry's Seafood Bar & Grille
D P
5/5
7 months ago
This place is great! First time here and I felt like I was back in New Orleans! The food is delicious and the atmosphere was authentic and fun. The service was friendly and professional and very attentive. The prices are reasonable and food presentation was very nice. Very family friendly. We had a good time and a pleasant experience. I definitely recommend this place to everyone. 👍
Timothy Martin
4/5
in the last week
My nieces and sister-in-law ordered steaks. I had the shrimp and scallops Orleans My sister-in-law steak was a bit undercooked. The waitress remedied the situation quickly. My dish was very good. The Cajun seasoning was strong but not overpowering. Our waitress Ashley was very attentive. Checking on us, our food and our drinks. Overall it was a very pleasurable experience and I would highly recommend Harry's to anyone
Mannie Pena
5/5
10 months ago
We always stop in to enjoy some delicious dishes at Harry's Seafood. We have been coming in for about 15 years. We do not live in the area but it's well worth the trip. The Red fish was delicious!!! I substituted the white rice for grits. Kurtis has been our waiter in the past and he is AMAZING. We will continue to visit. Gustavo is a chef and we complimented him on the way the dishes were prepared. THANK YOU HARRY'S STAFF!!! God bless USA!!!1😇🙏🙏🙏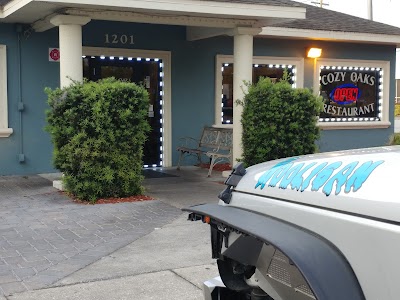 Photo Courtesy of: HooliganAdventures Enthusiast
Did you know that Cozy Oaks Restaurant rates 4.5/5 based on 1301 total ratings?
Reviews for Cozy Oaks Restaurant
Tim A
5/5
a month ago
Great French Toast and crisp prefect bacon. Sausage links and pancakes are good too. The coffee is really nice. But the best thing about this place, is the wait staff. The young ladies and others, work as a team and make for a great experience. Orders and payments are fast and easy, all done at your table with a palm unit. Prices are excellent. We'll be back. Great job.
Christine Rodriguez
5/5
4 months ago
We came up here for martial arts competition and found this gem. Jeanne was pleasant and very attentive. The food portions were large and the food was delicious!!! We ordered the hulk breakfast and I could taste the love in the bacon eggs, Pancakes, French toast, hash browns and grits. I called everyone and told them to go there. I'm definitely coming back.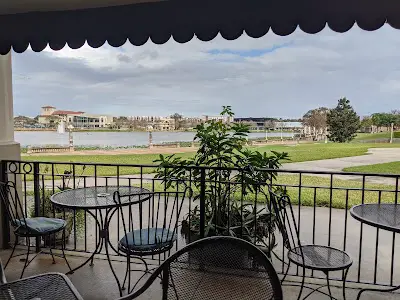 Photo Courtesy of: JP 28
Did you know that Garden Bistro rates 4.5/5 based on 252 total ratings?
Reviews for Garden Bistro
Chae D
5/5
3 weeks ago
The food was always on point! The ambiance wasn't the greatest, but I didn't go there for that. I went for the food! Everything was grand, a bit pricey but so what, I enjoyed every plate, immensely 😋.
smrlvn
5/5
3 months ago
We love Garden Bistro. I typically get the Turkey Bacon Beulah with a cup of the homemade soup (I like the curried chickpea & brocolli cheddar soups best – so far). Delicious!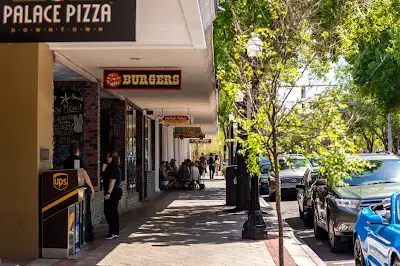 Photo Courtesy of: Visit Central Florida
Did you know that The Chop Shop rates 4.2/5 based on 1055 total ratings?
Reviews for The Chop Shop
Lena Rider
5/5
2 weeks ago
First time here. Great Hamburgers. We always walk our dogs in the park around gardens. Then head downtown to eat outside at a dog freindly reasturant. Decided to try the chop shop. Was not disappointed. Madison our server had just started working there. She was very good. Thanks Madison and good luck with college. She Even had them separate our double Hamburgers to give our dogs a treat. We will definitely come here again..want to try the green fried tomatoes. The deep fried pickles were awesome. Want a great hamburger try the Chop shop .
Elana Goldstein
5/5
4 months ago
Quick service. Yummy food. The decor inside was roadhouse with all the cool beer and car signs. Really good ranch dressing. My patty melt was delicious and juicy even though I order my beef well done. The boyfriend got a blue suede burger medium and it was cooked perfectly. Will definitely be back to try more menu items.
Michael Schmitt
5/5
3 weeks ago
First time trying this place. When I entered I saw no one else there. It was a bit early for lunch however. Anyway was told to take a seat anywhere. Ordered the club sandwich. It came quick and was good. It comes with fries and there were lots of fries. The atmosphere was good, oldies music at the time I was there and many TV's showing various channels. I will be back and try a burger next time.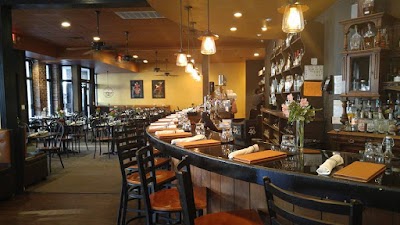 Photo Courtesy of: Frescos Southern Kitchen & Bar
Did you know that Frescos Southern Kitchen & Bar rates 4.3/5 based on 1501 total ratings?
Reviews for Frescos Southern Kitchen & Bar
MrSam Berries (MrSamBerries)
5/5
a month ago
Out of all the places my husband and I went to for our "The kids are in school let's have lunch dates!" This was my absolute favorite place. We loved the building (and we were seated all the way in the back next to a busy door). Our waitress was amazing, the food was amazing. Loved this place. I got the BBQ chicken pizza. It's the best thing I've eaten. Would absolutely go back everyday if I could.
Precious Wilder
5/5
3 months ago
Food was very delicious! I wanted to meet the chef. Can't complain about anything. Lobster Mac , crab cakes, shrimp and grits… even the deviled egg!!! Our waiter Chase was really fast and everything was perfect! That's a plus
Tammy B.
5/5
3 months ago
Love Fresco's…had the ranchero bowl…ordered it with an over easy egg which once cut perfectly ran over the dish and made it so luscious and creamy. Simply put perfection. Had the bottomless mimosas, started with traditional first then had the white peach (which didn't taste like peach at all, sorry but true 😒) then had the pineapple. Overall experience was great. Wait wasn't that long even on a Sunday.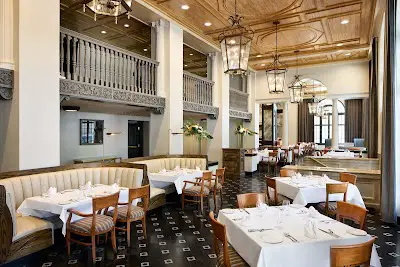 Photo Courtesy of: Terrace Grille Lakeland
Did you know that Terrace Grille Lakeland rates 4.2/5 based on 255 total ratings?
Reviews for Terrace Grille Lakeland
Katie Carey
1/5
3 weeks ago
It was our first and last visit. As my grandfather would say "kids, take a good look around. Because you're never gonna see this place again." Upon entering it took a while to even get someone to SEE us to seat us. No drink menus, we had to ask for them. Bread came and the butter was so bland and flavorless- come on, not even salted butter? Cocktails arrived and there was either the entire lack of champagne in them, or it was so tragically flat the bubbles had died hours before. Appetizers were pretty tasty, but nothing to come back for. Presentation was clunky and overall the seasoning was lacking all around. Our entree arrived and it was not only completely over cooked, it was flavorless. The fingerling potatoes were raw. RAW. All in all, I'm sad to say this was one of the more tragic flops of a meal I have experienced in a VERY LONG TIME. Gorgeous decor, very pleasant dining room. I'd say you can't go wrong with hitting the happy hour and drinking $5 wine that someone else made while enjoying the ambiance of the well designed interior.
Jane Cisneros
5/5
3 months ago
Although I've never stayed overnight, I do come in to eat every time I come through town. The attention everyone receives is very "old school" charm and top notch service. I feel like time has stood still, everyone is very proper and very kind to one another. The food is delicious and very fresh. Always a lovely experience.
penny burgess
5/5
2 months ago
Just had an amazing experience. From the atmosphere to service and the pairing of wines to the the menu made for an incredible experience. The twist on flavors and presentation was truly magical. The meal was outstanding. I had the ravioli with fresh shaved truffles from France. My husband surf and turf. From beginning with appetizers to ending with an amazing chocolate dessert complete with presentation of each plate truly an amazing experience. Will be back tomorrow!